Brown Trout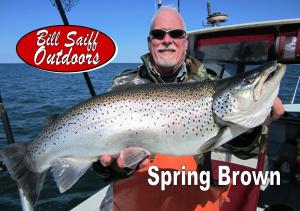 The forecast for fishing in 2016′ is quite bright. Fish species like Brown Trout, Lake Trout, Steelhead and Walleye are all on the rise. 2015' was a slower than normal year on Kings but other species more than made up for the slight shortfall in King Salmon action. We have a new lodge for our south shore fishery during April. After 20 years on the south shore we are offering new accommodations for our fishermen. It has long been a Saiff tradition to take one of our boats to Pultneyville, NY during the month of April. Lake Ontario gets warms soonest on the south shore so while things are un-thawing in Henderson Harbor, we enjoy a month's worth of fishing in Pultneyville. Check out the Bill Saiff Outdoors channel on YouTube.com and view many of the great Spring Brown Trout videos shot during this time frame.
Trophy Walleye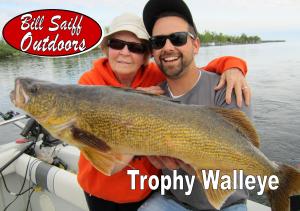 The month of May looks extremely bright for Trophy Walleye in Lake Ontario's eastern basin. 2015' was the best Walleye fishing we have seen in 10 years. The winter bite has been quite good in 2016' so we expect good fishing as lake temperatures rise. Northern Pike and Pickerel fishing is also hot during May and early June so look for these species as a bonus this spring. This warm water fishery rolls right into fantastic Smallmouth Bass action on the 3rd Saturday in June. Henderson Harbor has long been known as the Bass fishing capital of Lake Ontario. A combo trip that includes Bass, Browns, Lakers and even some early Kings is not uncommon during the month of June.
Smallmouth Bass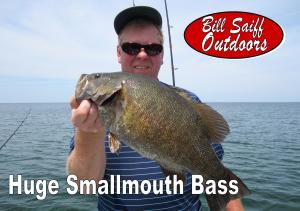 Late June and July represent what we refer to as "Hot Zone" fishing. The Saiff Fleet assaults the Shipping Lane region of Lake Ontario during this time period. Out quest at this time is for early summer Salmon but anything can happen during the "Hot Zone". Incredible catches of Kings, Steelhead, Browns and Lake Trout are all common place throughout this time frame. If an angler is looking for big fish with lots of action, the "Hot Zone" is hard to beat….
Lake Trout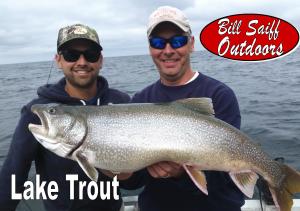 August is a great month for Trophy Lake Trout, especially in the early part of the month. Lake Ontario reaches its peak temperature and behemoth trout hug the bottom in the coldest water. Deeptrolling techniques put us in contact with Lakers that often break the 20 lb. mark with some examples cracking the 30 lb. mark. This great fishery is coupled with our late summer offshore Walleye fishery. Capt's like Bill Saiff Jr. and George Kogut are specialists on big Walleye during August. These two guys have caught more Walleye in the 80's and 90's than most guides will catch in a lifetime. This is an overlooked fishery during August but one that should be taken advantage of.
Mighty Chinook King Salmon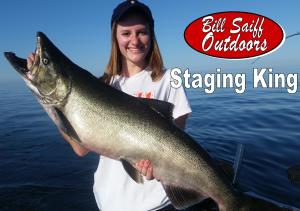 Late August and early September heralds the return of the Mighty Chinook "King" Salmon. These staging Kings move shoreward and anglers from all over the United States and Canada flock to the eastern basin of Lake Ontario to get in on the action. Flashers and flies entice these late season brutes into strikes that result in line burning runs and great fish fights for our anglers. Expect Salmon in the 18 to 30 lb. range on any staging King Salmon trip. We will hang with these fish schools as they move into shallow water off the mouths of famous fishing rivers like the Salmon river and Black river. Late September and the month of October, sees the fishery come full circle as predator fish move shoreward in cooling temperatures. The cycle resets itself and our 8-Boat fleet is there to see it begin and end—all the while, introducing our friends and clients to the absolute finest fishery in the lower 48
-Capt. Bill Saiff III